Old Soldiers Never Die...
WWII veterans gather in Guthrie for 51st reunion

By Jarrod Briley
Guthrie News Leader

Ross Jacobs sucked air through the oxygen hose that is now as much a part of him as the battle scars. He wheeled the tank to the front of the desk and sat slowly in the chair. During World War II, Jacobs drove million dollar vehicles, was in numerous firefights and did his part to safeguard the world against the Nazi threat.
Now breathing and meeting his buddies for their annual reunion has become an effort. Jacobs came to Guthrie to meet his fellow soldiers, the men who served with him in the 10th Armored Division of the 419th Battalion.
Jacobs came from a large family. Three of his brothers also served in the war.
"I was one of four boys that went to war. We lost one boy and the rest of us came back OK. That's the way it was," Jacobs said. He tugged his glasses free of the pencil-sized hose tucked firmly around his ears and wiped a tear from his eye. "Four of us went and one didn't come back." He repositioned his glasses and straightened himself.
Jacobs sat next to his daughter Rea Dawn Poling. Like the remaining mernbers of his battalion, most of whom will meet later this month at the Best Western here in Guthrie; Jacobs needs a little help getting around these days.
The reunion will be the 51st for the men who fought at the Battle of the Bulge, helping to drive back Hitler's forces. It may also be their last.
"We are losing our veterans at an unbelievable rate, thousands a day." Poling said.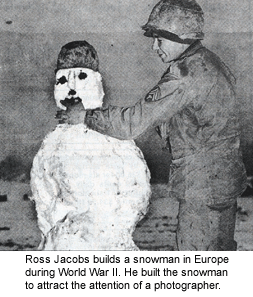 Jacobs drove a half-track during the war, a small tank looking vehicle that was home to several men. Propped atop its thick, metal exterior were their pup tents, shovels, bed rolls and any other gear needed.
"That was our home. Everything we needed for survival, we had to pack on the half-track," Jacobs said.
Although the war was a highly stressful time for Jacobs, it was fun at times, too, he said. On a blustery winter morning, somewhere in a frozen field in Europe, Jacobs noticed a photographer crossing the field. He decided that he wanted the man to take his picture. However, the photographer refused and moved on.
Jacobs knew the man would eventually pass through camp again on his way back home, so he devised a plan to entice the photographer into taking his picture.
"I gathered up snow and started making a snowman. I figured when he saw that, I would get my picture taken. But I couldn't find any thing to use for the eyes and mouth, and it was so cold that the snow was freezing hard and nothing would stick to it anyway. But we were out in a cow pasture so I used what was handy to make the mouth and every thing — manure," Jacob said.
He got his picture taken.